Where to find support
There are lots of places in Gloucestershire to access support for you and the people around you.
If you know of a useful source of information that we could add to this page, please email us at info@barnwoodtrust.org
Places to find information and Support
Below are some additional places to access help and support at this time. Contact the organisations directly or call us on freephone 0800 4220404 (Mon-Fri, 9.00-5.00) for information.  We will do our best to direct you to the support you need.
Gloucestershire Health and Care NHS Foundation Trust To access physical and mental health support contact the Gloucestershire Health and Care NHS Foundation Trust by telephone 0300 421 8100 or visit their website here
Mental Health Helplines To access telephone support for yourself or a loved one, these helplines and support groups can offer expert advice, visit the NHS website here
Inclusion Gloucestershire
Inclusion Gloucestershire have easy to understand pages about Covid-19 that are regularly updated. Visit the Inclusion Gloucestershire website to see accessible information about the support and advice available to help you through this time.
Citizens Advice Bureau To access money and benefits advice telephone 01452 527202 (Mon – Thurs, 9.30-4.00; Fri 9.30-3.30) or go to the Citizens Advice Bureau website here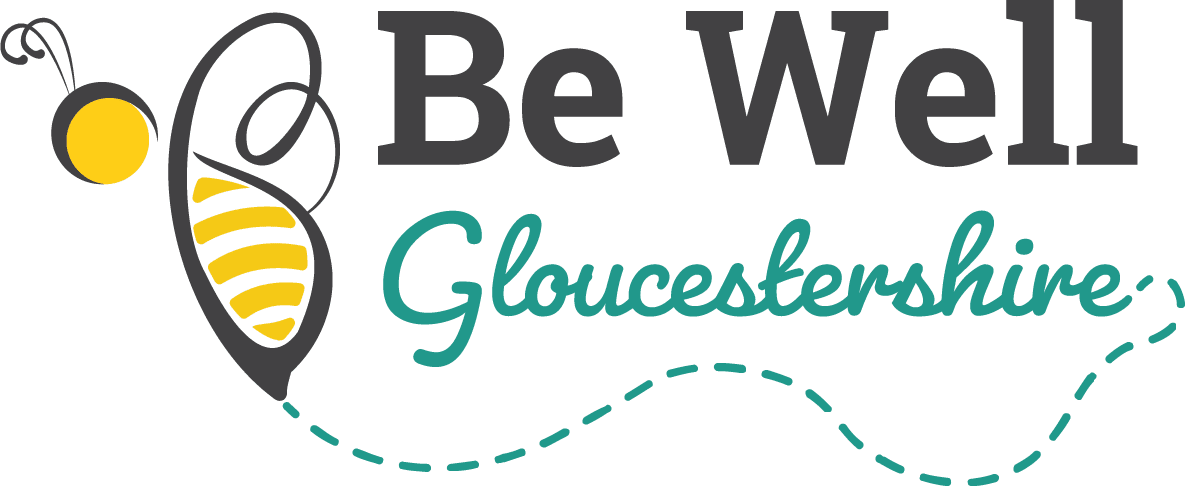 Be Well Gloucestershire is a local campaign aimed at promoting health and wellbeing support. They have a comprehensive list of all the services and support available. Visit their website here.
Stay Connected Helpline
To access the Stay Connected helpline for practical guidance for living well during self-isolation call 0800 048 7035 (Mon – Fri, 9.00-5.00) or go to the Guideposts website here
Gloucestershire Domestic Abuse Support Service (GDASS)
To access the GDASS helpline for advice and support about domestic abuse call 01452 726 570 (Mon- Fri, 9.00-5.00) / 0808 2000 247 (24hr) or go to the GDASS website here
Mental Health Support
Sane Line "SANE is a leading UK mental health charity. We work to improve quality of life for anyone affected by mental illness. Please explore the icons below to find out how we help people."
Rethink Mental Illness "We help millions of people affected by mental illness by challenging attitudes, changing lives. Here is just a selection about what we do, and what it means for you."
Mind "We provide advice and support to empower anyone experiencing a mental health problem. We campaign to improve services, raise awareness and promote understanding."
Bipoplar UK "We're the national charity dedicated to supporting individuals with the much misunderstood and devastating condition of bipolar, their families and carers. Each year we reach out to and support over 80,000 individuals through our range of services."
Anxiety UK "Anxiety UK is a national registered charity (number 1113403) (company number 5551121) formed in 1970 by someone living with agoraphobia for those affected by anxiety disorders. Today we are still a user-led organisation, run by people with experience of living with anxiety, stress or anxiety-based depression, supported by a high-profile medical advisory panel."
Epilepsy Society "A full life for everyone affected by epilepsy. We want everyone affected by epilepsy to have the best opportunity for a full life – as free from seizures as possible. We set out to make a difference to every person affected by epilepsy whatever their background, however seriously it affects them, and whether they have the condition themselves or are close to someone with epilepsy."
Suicide Crisis "Our Suicide Crisis Centres offer a safe place where you will be supported and helped through your crisis. We have a team of dedicated, caring, well-qualified people who really want to help. We provide face to face crisis support. Our new Centre is open 24 hours a day for people at high risk of suicide. Our Suicide Crisis Centres can support you if you live in Gloucestershire. We also have a Trauma Centre."
Support for Children and Young People
Childline Get help and advice about a wide range of issues, call them on 0800 1111, talk to a counsellor online, send Childline an email or post on the message boards.
Young Minds "Leading the fight for a future where all young minds are supported and empowered, whatever the challenges. We're here to make sure they get the best possible mental health support and have the resilience to overcome life's difficulties."
Teens in Crisis "TIC+ (Teens in Crisis) provides face-to-face and online counselling services across Gloucestershire for young people aged 9-21 and their families. At TIC+ we care. We're here to listen and support you – not to judge you."
Papyrus "We are the national charity for the prevention of young suicide. We draw from the experience of many who have been touched personally by young suicide across the UK and speak on their behalf in our campaigns and in our endeavours to save young lives. Together we believe that with appropriate support and education, many young suicides can be prevented."
Winston's Wish "We support bereaved children, their families, and the professionals who support them. We were the UK's first childhood bereavement charity – supporting bereaved children since 1992. As the first charity to establish child bereavement support services in the UK, we continue to lead the way in providing specialist child bereavement support services across the UK, including in-depth therapeutic help in individual, group and residential settings."
The Door Youth Project "The Door's mission is to bring hope into the lives of young people and their families, through unlocking potential and opening opportunity so their past does not define their future."
Infobuzz Infobuzz offers therapeutic and practical support for families and young people with complex needs.
Gloucestershire Young Carers Gloucestershire Young Carers is a dynamic charity constantly growing and developing to meet the ever-changing needs of young carers in the county.
Missing People Missing People is the only charity in the UK which is dedicated to bringing missing children and adults back together with their families.
Coram Voice is a national charity that works with children and young people vulnerable to harm or exclusion from society, and who have a particular reliance on the state or its agencies for their rights and wellbeing.
Active Impact – Support and Guidance for the inclusion of disabled young people in community groups
NDTi Time to Talk – Supporting young people with SEND to plan for the future, following the disruption caused by the pandemic and lockdown.
Young Gloucestershire –  is a countywide charity that supports disadvantaged young people who are facing challenges in their lives. Visit the  to find out what they are doing to support young people at the moment.
Health, Advice and Advocacy
Age UK Gloucestershire To access information and guidance call 01452 432660 or for a friendly chat call their free Friendline on 0800 2980579.
Glos Assistants is a website that aims to link disabled people and their families with people who are interested in working as Personal Assistants.  The purpose of our website is to enable people to choose their own help, care and support, and to encourage more people to think about doing this kind of work.
Shift.Ms is the social network for people with multiple sclerosis. Founded by MSers, for MSers, the charity supports many thousands of recently diagnosed people across the world as they make sense of MS. It's independent and it's free.
Healthwatch Gloucestershire "Healthwatch Gloucestershire is the county's independent health and care champion.  It exists to ensure that people are at the heart of care. Dedicated teams of staff and volunteers listen to what people like about local health services, and what could be improved.  These views are then shared with the decision-making organisations, so together a real difference can be made."
2gether NHS Foundation Trust "We provide specialist mental health and learning disability services to the people of Gloucestershire and Herefordshire. We're an innovative and forward-thinking organisation, with a real commitment to providing a high quality service. We were also the first trust in the country to be awarded an 'outstanding' rating for acute inpatient services, crisis services and psychiatric intensive care services."
Independent Age "Whatever happens as we get older, we all want to remain independent and live life on our own terms. That's why, as well as offering regular friendly contact and a strong campaigning voice, Independent Age can provide you and your family with clear, free and impartial advice on the issues that matter: care and support, money and benefits, health and mobility. A charity founded over 150 years ago, we're independent so you can be."
Carers Gloucestershire "The services we offer to carers are free of charge, and that provision remains one of the core elements of who we are and what we do. We are the only organisation in Gloucestershire who provide free support and advice for Carers, ranging from a Carers helpline and GP surgery links, to parent carer training and a Carers break service."
Caring for Communities and People "CCP exists to transform lives. Our priority is to people who have serious and immediate need, equipping them to meet the demands of an ever-evolving society."
National Drugs Helpline "Need some friendly, confidential advice? Talk to Frank."
Is this information clear?
If you would like any of this information in a more accessible format please let us know and we'll arrange this with you.
Email us at info@barnwoodtrust.org